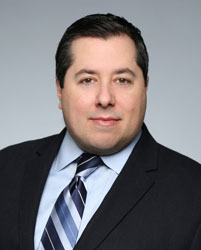 Vision Share would like to announce that a new President/CEO has been selected. With excitement, Vision Share welcomes Philip I. Waitzman MBA, MPH, MA, LSW to lead Vision Share's industry leading network of eye bank members. Mr. Waitzman brings more than 15 years of relevant healthcare and business leadership experience in the areas of marketing, business development, strategic partnerships, fundraising and development.
"I am honored to have been selected as Vision Share's President/CEO. It is a privilege to be part of an organization that delivers high quality services and whose network consistently drives innovation. It is very apparent that Vision Share is an organization that is dedicated to making a positive, meaningful impact in the ophthalmic community. I will do my best to serve the network by helping enable our staff to fulfill Vision Share's mission and vision while ensuring our member eye banks fulfill their passion for restoring sight and being good stewards of donation process."
– Philip Waitzman, Vision Share President/CEO

Prior to joining Vision Share, Mr. Waitzman's most recent role was Vice President of Corporate Partnerships, Marketing and Military Outreach for Jones International University.  At JIU he was a senior team member charged with leading three departments to develop and maintain over 50 corporate partnerships and military base relationships while overseeing the marketing and communications teams for the University. Mr. Waitzman's academic background includes completion of a bachelor's degree from Drake University, a master's in social services from the University of Chicago, a master's in public health and a master's in business administration from the University of Illinois at Chicago.
"Philip is clearly the leader for Vision Share's future and he has the full support of the Vision Share Board. With Philip taking on the role as Vision Share President/CEO we are very confident that he has the leadership to drive Vision Share's success for the next chapter".
– Chris Hanna, Vision Share Board Chair
More About Vision Share
Vision Share is the largest network of eye banks in the world, spanning over 17 states in the U.S. Vision Share and its members are consistently recognized as best in class for eye bank experience and expertise and are leading innovators in eye bank procedures and technology. Vision Share prides itself on having a global reach for placement of eye tissue. Our network and its reach are uniquely designed to meet the specific individual needs of surgeons, hospitals, surgery centers, academic institutions, and other eye banks in need of ocular tissue and related services regardless of location.